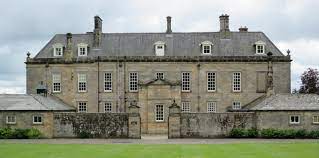 At some point in Wallington's history, the following verse was written as part of a poem entitled "Cheviot":
"Fair Wallington has been decreed by fate,
To be the cap'tal of a large estate;
The wine of Wallington old songsters praise,
The Phoenix from her ashes Blacketts raise."
Situated in Cambo, Northumberland, Wallington is a fine mansion of grandeur, both internally and externally. It is one of the jewels in the crown of Blackett properties still in existence, and is maintained to the high standards worthy of their heritage. Parts of the grounds were laid out by Lancelot "Capability" Brown, who went to school in Cambo.
Wallington had been owned by the once wealthy Northumbrian Fenwick family and was purchased from an impoverished Sir John Fenwick (1645-1697) in 1688 by Sir William Blackett (1657-1705), the third son of the first Sir William Blackett, who was created a baronet in his own right. Sir William demolished the old house, but retained some parts which he incorporated into his new building of Wallington Hall.
On the death of Sir William in 1705 the house passed to his sixteen year old son, another Sir William (1689-1728), who later married Lady Barbara Villiers. The marriage produced no legitimate heirs, and on Sir William's death a condition of his Will was that his estate passed to his nephew, Walter Calverley, on condition he married Sir William's illegitimate daughter, Elizabeth Ord, and assumed the name Blackett. Walter duly obliged and acquired Wallington as part of his inheritance, though Sir William had left considerable debts, including a mortgage on Wallington, and it was not until 1750 that Sir Walter was able to acquire the full title.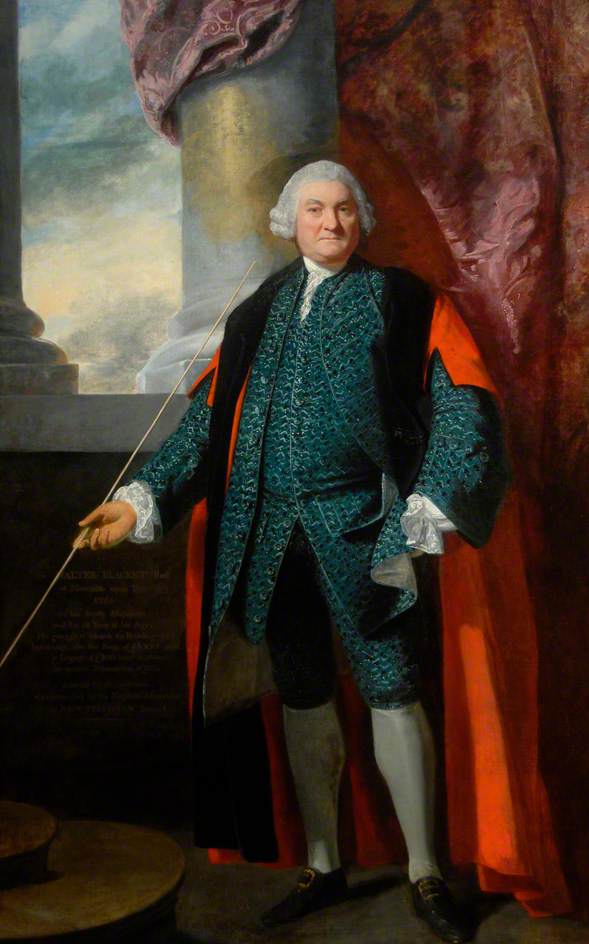 Sir Walter Calverley Blackett was described as a generous man,  renowned for his outstanding acts of charity. While an M.P. at Westminster, he followed an independent line, being styled "The Patriot" and "The Opposer of the Court". When, in 1771, a Rockingham Whig reproached Charles Jenkinson (the future Earl of Liverpool) over his obscure origin, Sir Walter said: "Every man carries his honour in his own hand, Origin is nothing; it shall never have any weight with me."
The only child of Sir Walter and Elizabeth died young, and in the absence of a male heir, after Sir Walter's death in 1777 Wallington passed, once again under the provisions of Sir William Blackett's Will, to his nephew, Sir John Trevelyan, the son of his sister Julia. Wallington Hall remained in the Trevelyan family for over two centuries. The estate is now part of The National Trust and is open to the public.
Sir Walter had made vast improvements to the house and estate and is credited with much of what is seen of the present day Wallington. There are many other external features of interest, added over the centuries by the Trevelyan family, which only go to enhance and make Wallington Hall a truly delightful place to visit.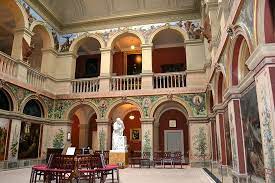 Sir Walter Blackett also planted many oak and beech trees at Wallington, but sadly about "half a generation" of these were toppled in the storms of early 2022 (see Daily Telegraph article).
The film, "The Black Velvet Gown", from the novel written by Dame Catherine Cookson, was filmed partly on location at Wallington Hall, as was the TV adaptation of her novel "The Rag Nymph".

Recommended reading: "Memoirs of The Public Life of Sir Walter Blackett of Wallington, Baronet" by John Straker.