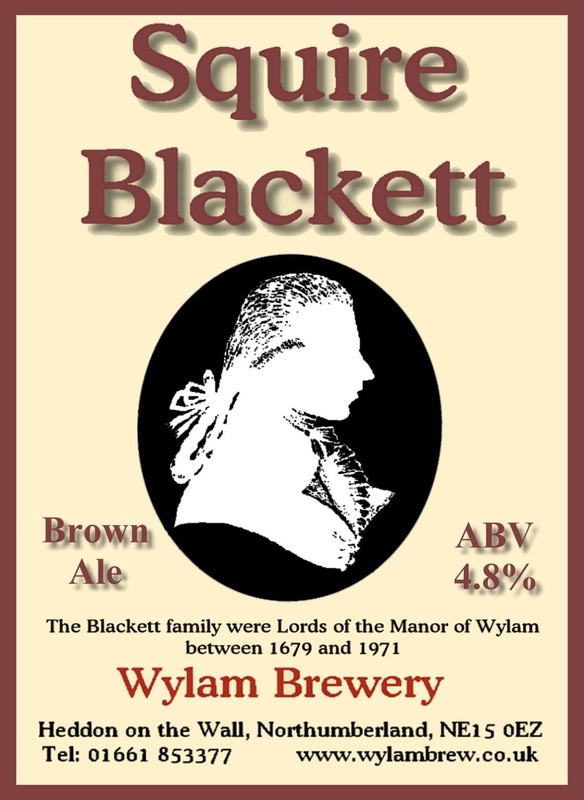 Squire Blackett beer was brewed by the award-winning Wylam Brewery Ltd. near Heddon on the Wall, Northumberland. It was a traditional northern style brown ale, with an ABV of 3.6%, and was made with five different varieties of barley and wheat grains, and two varieties of hops. Wylam Brewery has also produced Puffing Billy beer, named after Christopher Blackett's famous locomotive. (See Railway Blacketts) 
The present brewery was established in 2000 but an earlier Wylam Brewery was in existence as long ago as 1835 when, on 23 February of that year, Christopher Blackett of Oakwood, Wylam granted a lease of 12 years to John Weatherly, brewer of Wylam Brewery. The brewery closed in 1870.
 The name of Thomas Blackett appeared on bottles of beer and stout around the end of the 19th century. This may refer to Thomas Blackett (1848/9-1912) of Byker, a former stationer, though he described himself as a wine and spirit merchant.
A further brewing connection with the Blacketts derives from the 1875 marriage of Edward Ralph Blacket to Laura Jane Grey, the great-granddaughter of Samuel Whitbread, founder of the Whitbread brewing empire.
And finally, Blacket & Gill's brewery (later known as Shaw, Gill & Co.) was established at South Tyne House, Alston, Cumberland in the 1770s. It is not known which Blackett established the brewery but it is likely to have been a descendant of John Blackett and Julia Bellas, mentioned in West of the Pennines and Barbados . At least one member of the Gill family subsequently married a descendant of John Blackett and Julia Bellas.