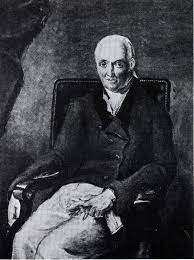 Christopher Blackett (1751-1829) played a significant part in the development of early steam locomotives. As owner of Wylam Colliery, west of Newcastle, in 1805 he ordered a locomotive from the renowned Richard Trevithick, which was built in Gateshead. After trials the locomotive was found to be too heavy for the wooden rails of the Wylam waggonway, and it was converted into a blower for the foundry.
Blackett relaid the waggonway with cast-iron plates and asked Trevithick to supply a further locomotive. When Trevithick replied that he was too busy with other projects Blackett instructed his colliery viewer (manager), William Hedley, assisted by his foreman smith, Timothy Hackworth, to build one. After earlier experiments, Puffing Billy and Wylam Dilly were constructed in 1813/14.  
After nearly 50 years of hauling waggons1 along the Wylam Waggonway Puffing Billy was lent, and later sold, to the forerunner of the Science Museum in London, where it resides to this day. It is the oldest preserved locomotive in the world. Wylam Brewery Ltd. have produced a beer named after it. (See Blackett beers.) Wylam Dilly is now in the National Museum of Scotland.

From 1863 to 1868 a wayleave over part of the waggonway was the subject of a succession of court actions between Edward Algernon Blackett, the grandson of Christopher Blackett, and Thomas Bates and his late father, through whose land the waggonway ran for part of its way. The original sum in dispute was £373, but after more than five years of litigation the legal and other costs incurred by each party were estimated at £20,000.
  Christopher Blackett also established The Globe, a London newspaper, in 1803 (see Blacketts and literature).

George Stephenson, "The Father of Railways" was born in a cottage alongside the Wylam Waggonway in 1781, and as a boy worked for Christopher Blackett, keeping the waggonway clear of cows. George went on to build the Stockton and Darlington Railway and, in conjunction with his son Robert, to design and build the famous Stephenson's "Rocket".
Thomas Oswald Blackett (1790-1847) carried out a number of surveys for the early railway system, and in November 1824, working under George Stephenson, prepared the plans for the Liverpool and Manchester Railway, the first passenger railway in the world. It was a hazardous occupation, as the local landowners, not wishing the railway to pass through their land, employed gangs of men to shoot at the surveyors, who consequently had to work largely at night. The official opening ceremony of the railway in 1830 was marred when the local Member of Parliament was run down and fatally injured by Stephenson's "Rocket", thus becoming the world's first railway fatality. Thomas Oswald Blackett suffered a similar fate in 1847, when he was run down whilst working on the Newcastle to Carlisle line.
Thomas Oswald was not the only Blackett to meet with an accident involving railways. In 1965 Sir Charles Douglas Blackett successfuly sued British Railways for being responsible for a broken femur he suffered when tripping over a mail-bag that had fallen off a luggage trolley at Kings Cross station. Damages were assessed at £1,500, but as Sir Charles was held to be one-third responsible for the accident he received only £1,000. It is assumed that the remaining £500 was awarded to the mail-bag. (NB. During World War I Sir Charles's father, Sir Hugh Douglas Blackett (1873-1960), together with his friend and fellow-officer Fred Barnett, for whom he had fagged at Eton, were reputed to have commandeered their general's train to transport their hunters.)
John Stephens Blacket (1833-1922) worked for some years as a surveyor for the East Indian Railway. During his time in the Agra district of India he became caught up in the Indian Mutiny and was forced to take refuge in Agra. His letters describing his experience are held by Durham University.
The only railway locomotive we have discovered containing the name "Blackett" is "Mount Blackett", operated by East African Railways on the main line between Mombasa and Nairobi between the mid 1950s and the early 1980s. It was named after Mount Blackett in Rift Valley, Kenya.
For the technically minded, it was an articulated steam locomotive 4-8-2+2-8-4 built by Beyer Peacock & Co. Ltd. of Manchester weighing 254 tons. Its number was 5922. Mountain Class locomotives were the most powerful metre-gauge steam locomotives ever built.
1 A waggon (spelled with two "g"s) was a truck used for carrying coal.