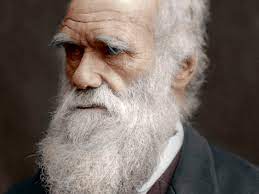 In 1934 Julian Otto Trevelyan, the 5xg/grandson of Julia Blackett, married Ursula Darwin, the great-granddaughter of the eminent naturalist Charles Robert Darwin, who wrote "The Origin of Species" and "Natural Selection".
Ursula was also (through both Charles and his wife, Emma Wedgwood, who were first cousins) the 3xgranddaughter of Josiah Wedgwood, founder of the famous pottery and china business. A link to Josiah Wedgwood was already established, however, through Margaret Jean Trevelyan, a 3xg/granddaughter of Julia Blackett, who in 1858 married Henry Thurston Holland, Josiah's great-great nephew. Charles Darwin's grandfather, Erasmus Darwin was a close friend of Josiah Wedgwood, who was also a grandfather of Charles. 
There were also several other links between the Darwin and Wedgwood familes, as detailed in the Wikipedia article on them, and the interrelated families contain a surprisingly large number of descendants who achieved eminence in a number of fields (perhaps providing proof of Darwin's theory of natural selection!). One such descendant was the composer and arranger Ralph Vaughan Williams (1872-1958), whose mother was Margaret Susan Wedgwood, who was herself the daughter of Caroline Sarah Darwin, the older sister of Charles Darwin. Vaughan Williams is widely known for a number of symphonies and other material, including The Wasps, The Lark Ascending and Fantasia on Greensleeves from the opera Sir John in Love. 
A further link between the Blacketts and Charles Darwin stems from the 1894 marriage of Mary Dorothea Wharton, 6xgreat-granddaughter of Sir William Blackett, to Charles Waring Darwin, a 2nd cousin 1xremoved of Charles.