In 1725, five years after Diana Blackett became mistress of Bretton Hall, her first cousin 1 x removed, also Diana Blackett, (1704-1737), daughter of William Blackett and grand-daughter of Sir Edward Blackett, 2nd Bt., married Henry Mainwaring, and became mistress of Peover Hall, Over Peover, Cheshire. (Peover is pronounced "Peever".)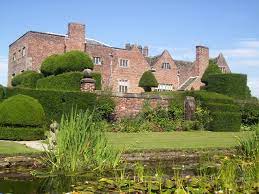 The Mainwarings were an old Norman family and had been granted substantial lands around Peover after the conquest. The current house was built by Sir Randle Mainwaring in 1585 with alterations being made c. 1653-6. Diana's marriage into the family would have brought a considerable infusion of wealth as she was the only child of William and his wife Diana Delaval, who enjoyed a considerable fortune herself. It was not until 1764, however, 27 years after the death of Diana Mainwaring, that a large extension to the property (since demolished) was built.
 Diana had been married for less than a year when Henry Mainwaring died in 1726, leaving a posthumous son, Henry, born on 7 November of that year. He immediately inherited the family baronetcy, his uncle, Sir Thomas Mainwaring, 3rd Bt., having died without issue seven weeks previously. Diana married in 1734 her second husband, Thomas Wettenhall, Rector of Walthamstow, Essex. In 1797, her son by her first marriage, Sir Henry Mainwaring, died without issue, and the title passed to his uterine half-brother, Thomas Wettenhall, who changed his name to Mainwaring in accordance with Sir Henry's Will, thus continuing the Mainwaring name, if not the blood-line. The estate continued in the ownership of the family until 1919, when it was sold to Mr. John Peel, and it was sold again in 1940 to Mr. Harry Brooks, in whose family its ownership still remains (2021). The Mainwaring Baronetcy died out in 1934.
During World War II the house was requisitioned, and became the headquarters of the American Third Army under the command of General George S. Patton. In the Church of Saint Lawrence, immediately behind Peover Hall, is mounted an American flag presented to the church by General Patton. This permanent display of the Stars and Stripes in an English church is believed to be unique.
Peover Hall was among a number of country houses featured in the Granada Television series, "Sherlock Holmes", and was featured in the 1970 film, "Patton", starring George C. Scott.
For more information please visit the Peover Hall website.