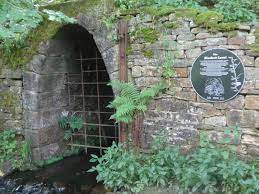 The Blackett Level is a substantial mine exploration and drainage system constructed to explore unknown ground in Allendale in Northumberland in northern England. It was engineered by Thomas Sopwith and Thomas John Bewick on behalf of the mine owner and first Baron Allendale, Wentworth Blackett Beaumont M.P. Construction began in 1855 and continued until 1903 when after 4.68 miles, it remained incomplete.
The tunnel still exists today and houses an underground canal, which measures 8ft in height and 5ft in width and runs between Allendale (where it starts at Allendale Town) and Allenheads – the tunnel portal can still be seen by the riverside at Allendale.
Wentworth Blackett Beaumont had inherited the original Blackett of Newcastle estates and the substantial mining interests of Sir Walter Blackett through marriage, whereby these estates passed to the Wentworth Blacketts of Bretton Hall and the Blackett-Beaumont line of the family. The significant engineering feat was named after the Blackett Baronets, who were important to both the lead mining and coal trade to such a degree that in the 17th Century the Blackett mines provided about 1/7 of all lead ore mined in the UK.
An online archive, centered on the lead business developed by the Blackett and Beaumont families between the 17th and 19th centuries, is now viewable at Dukesfield Documents. The site includes thousands of letters and other documents, all searchable online.
Wentworth Blackett Beaumont was 1st cousin of Frederick Edward Blackett Beaumont (see A Blackett firearm).