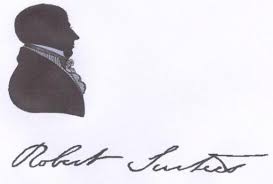 This silhouette is the only known image of Robert Surtees as an adult. (Courtesy of The Surtees Society)
 In 1801 Alice Blackett (1781-1827) married Anthony Surtees, a fourth cousin of Robert Surtees, the great historian and genealogist of North East England. Robert Surtees was born in 1779 in Durham and trained as a lawyer, though he never practiced law. On the death of his father in 1802 he inherited the family seat of Mainsforth Hall, near Sedgefield, and lived there for the rest of his life. (It was demolished in 1962.)
By 1804 he was gathering material for what would become "The History and Antiquities of the County Palatine of Durham". The first volume was published in 1816 and three further volumes followed, the last of which was published posthumously in 1840.
Although he did not enjoy robust health, Surtees and his wife, Ann Robinson, whom he married in 1807, enjoyed entertaining, and their guests at Mainsforth frequently included the novelist and poet, Sir Walter Scott. Surtees had a well-developed sense of humour, and was good enough at writing ballads to deceive Sir Walter into thinking that "The Ballad of Featherstonehaugh", which Surtees had written himself, was an ancient song. Sir Walter included it as such in his "Minstrelsy of the Scottish Border", along with two other "forgeries" by Surtees, and even went so far as to include in the 1810 edition a memorandum by "my friend and correspondent R. Surtees" purporting to explain many of the "ancient" references in the ballad.
In January 1834 Surtees complained of a cold, and complications developed. He died at Mainsforth on 11th February with Ann at his bedside. Later that year, The Surtees Society was established in his honour. It is the oldest historical publishing society of its type in England.
In addition to his published works, Surtees conducted a vast amount of genealogical research, including much on the Blackett family. In 2007 a bundle of old Blackett family papers was acquired at auction, and found to include several Blackett family trees compiled by Surtees. These have enabled us to ascertain the links between the various major branches of the family and combine them into the tree which forms part of this site. The original papers have since been donated to Durham University.
Robert was not the only author to bear the name Surtees. His fourth cousin once removed, Robert Smith Surtees (1805-1864), the second son of Anthony Surtees and Alice Blackett, was a well known author of many humorous books on fox-hunting and country life, some of which are still on sale today. In 1885 his younger daughter, Eleanor, married John Gage Prendergast Vereker, 5th Viscount Gort. Their elder son, John Standish Surtees Prendergast Vereker VC, the 6th Viscount, (widely known as "Lord Gort"), became a Field Marshal and was Commander-in-Chief of the British Expeditionary Force (BEF) in France in 1939-40. He is credited by most commentators with responsibility for saving the BEF from likely capture by withdrawing most of his forces to Dunkirk. As Winston Churchill later said of Lord Gort's decision: "At this moment here was the only hope of saving anything from destruction or surrender."  ("The Second World War" by Winston S. Churchill.)