In 1819 William Robinson, the son of Margaret Blackett and William Robinson of Hamsterley, County Durham, married Johanna Christian in London. Johanna was the daughter of Admiral Sir Hugh Cloberry Christian, a descendant of an old Isle of Man family, and was the 5th cousin of Fletcher Christian.
Fletcher Christian was master mate on HMS Bounty1 and led the mutiny on 28 April 1789 against the captain, William Bligh, later immortalised in the 1935 motion picture "Mutiny on the Bounty", starring Charles Laughton as Captain Bligh and Clark Gable as Fletcher Christian. After evading capture by the Royal Navy, Fletcher Christian died on Pitcairn Island in the South Pacific on 20 Sep 1793, six weeks before the birth in Oxfordshire of his 5th cousin Johanna Christian on Thursday 31 October 1793. By coincidence Fletcher Christian had named his eldest son, born in 1790, Thursday October Christian.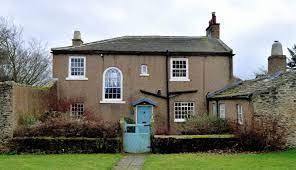 William and Johanna Robinson settled in Hamsterley for some years, where William built "Hamsterley Lodge" (now known simply as "The Lodge")2. Their two children were baptised in Hamsterley and Johanna was buried there on 24 October 1827 (which was a Wednesday).
1 In 1837 the ship's log of HMS Bounty was purchased at Pitcairn Island by Midshipman John Charles Blackett from a descendent of Fletcher Christian (see Naval Blacketts).
2 We are indebted to Jonathan Peacock for his help in identifying this property.